Wedding Music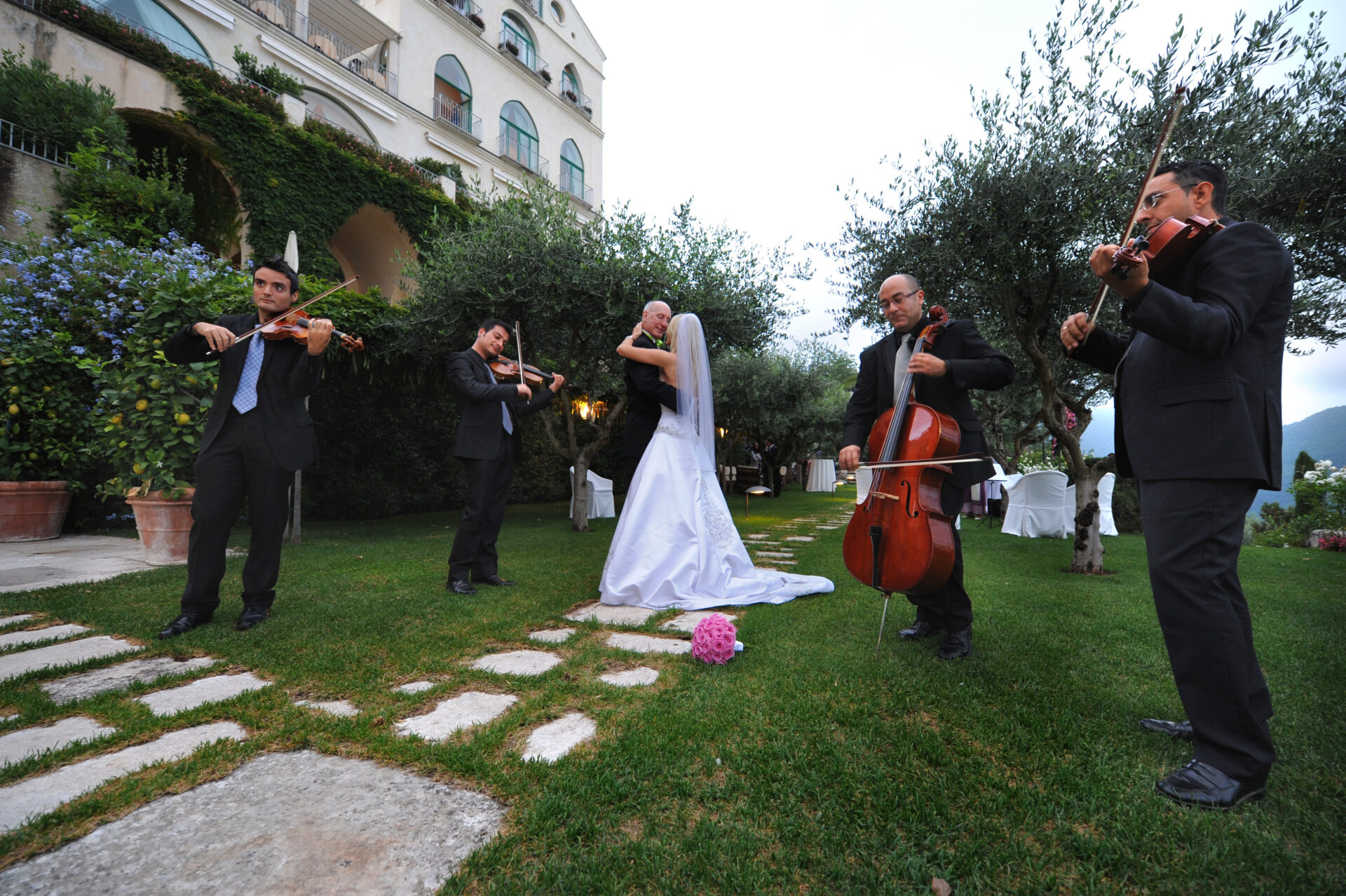 We are proud of our expertise, experience and passion in providing talented and very professional Musicians for all type of Weddings and Special Events.
Our company works only with the best professionally trained musicians of the highest caliber in order to create elegant, upbeat, tasteful, beautiful and unforgettable events. Our musicians can perform any genre and style of music to fit any entertainment needs. All of them have been performing at weddings and special events for decades.
What makes us unique is our ability to customize each event, with a large versatile collection of bands and a huge roster of tired and trusted artists in order to meet and satisfy your specific requirements.
What we will do:
We will ensure peace of mind with our unrivalled musical event co-ordination. We will work with you to put together a timeline and a unique playlist based on your requests. We will make sure that every detail is perfect for the big day, to set the mood for an experience you'll cherish forever!
Your Wedding Day is a celebration of the Love that you have for each other, witnessed by your family and friends, it is an important occasion filled with joy, happiness and romance, that is why the choice of music has to be carefully done. The selection of the music has the ability to enhance these emotions and provide memories that will last a life time.
The right music will create the perfect atmosphere by creating a service up to or exceeding your level of expectations.
We guarantee to set the tone and to help create a magical event full of taste and style that will touch your soul and will be a truly dream come true. We are sure that you will blow away with the end results.
We know how to achieve perfection in Wedding Music and we are sure we will be able to send you a tailor made proposal that will meet your requirements staying within your budget.
Our aim is to make your wedding day memorable by providing the perfect music to compliment your special day and take some of the stress out of organizing what is a crucial part of your wedding day, the music.
Which ensemble is the right one?
Several factors help determine which ensemble is the best choice. Location of the event is the main factor, along with personal taste and the style of music you would like performed. If there is a vocalist that will be performing, then we suggest an ensemble that is based on a keyboard, harp or guitar. If you are wanting an ensemble to perform at both wedding and reception, we will suggest the best and most economical choice.
 
Wedding Ceremony music
The use of music at your wedding ceremony can assist in creating the perfect atmosphere for your wedding day and to enhance the emotions and feelings that frame that important and romantic Big Day.
The music chosen should be a reflection of the unique relationship and love shared between the bride and the groom as they begin the start of their journey as husband and wife.
We have available musicians and vocalists in various ensembles who desire to make your wedding ceremony to fit your wishes and deep desires.
We work closely with some of the best classical musicians in Italy. Many of them work regularly at many National Orchestras and Opera companies or are indeed professional soloists.
Classical musicians are an excellent addition to a Special Event never failing to lend a distinct air of class, sophistication and beauty.
Bag pipe * Our pipers are smartly presented in traditional dress and play all the traditional bag pipe tunes and much more besides.
Mandolin and Guitar * Our players can be dressed in traditional way or with an elegant Tuxedo.The choice is up to you.
 
Ceremonies
Civil Ceremony
Catholic Ceremony
Protestant Ceremony
Jewish Ceremony
Hindu Ceremony
Symbolic Ceremony
Renewal of Vows
Wedding Reception Music
Our musicians can deliver any style of the music you desire for your Wedding and Special Event….from Swing, Jazz, Bossa Nova, Country, Folk to Middle age and Renessaince music and everything you may dream of.
The selection of music we can offer is huge and very professional, we have taken the time to filter out the best bands and musicians all around Italy, experienced and passionate to provide quality music and entertainment.
We know how to set the right tone for your Wedding party and we know that the selection of the appropriate music for your Wedding is a crucial part in the overall success of the evening.
Our Jazz Bands will add a stylish and classy atmosphere to any event and all our dancing bands will ensure your guests dancing into the early hours.
Our DJs will be able to create the perfect atmosphere. They pride themselves on not just playing a set song list but catering the selection to suit the age and overall atmosphere of the room/terrace/garden. They will play if you want the music you want to hear and at the volume you would like to hear it.
Technical equipment
We pay attention to the equipment needed for each event. Bands need Sound systems, electricity and sometimes also lightings and we will take care of this.
Contact us to start planning your Wedding in Italy!