Weddings in Ischia Island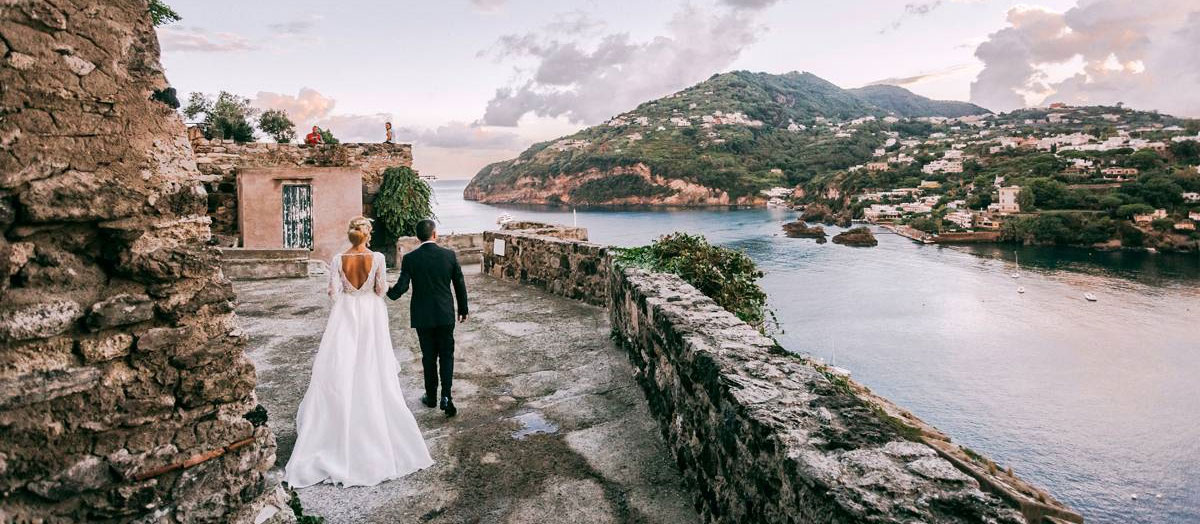 Weddings in ISCHIA are a dream come true with its magical romantic atmosphere.
Ischia is the largest island in the bay of Naples and is considered by many to be the most beautiful, (though Capri is considerably more famous).
The ancients called it PITECUSAE-AENARIA-INARIME-ARIME-ISCLA. Today, the island of Ischia is a well-known tourist centre for four main reasons. Firstly, for its unequalled natural beauty, secondly, for its all-year-round mild climate, thirdly for its thermal water, and lastly for its modern tourist facilities and hotels.
Ischia has a very varied landscape, including mountains, isolated hills, majestic promontories, slopes, plains, and brows of hills, all of which can easily be seen from the magnificent terrace of the SOCCORSO in Forio from which the incredible beauty of Mount Epomeo can be enjoyed.
Everything from the sea to the mountain – including its harbours, the small bays, its convenient beaches and ports, the high rockface along its coast, the vegetation, the variety of the plant life, the pine trees and the myriads of multi-coloured flowers – make Ischia one of the most beautiful islands of one of the most beautiful countries in the world.
WEDDINGS IN VENTOTENE
Civil Weddings
Catholic Weddings
Protestant Weddings
Symbolic Weddings
Renewal of vows
Marriage Proposal
WHEN?
All year round
Contact our staff to start planning your wedding in Ischia!