Civil Weddings in Sorrento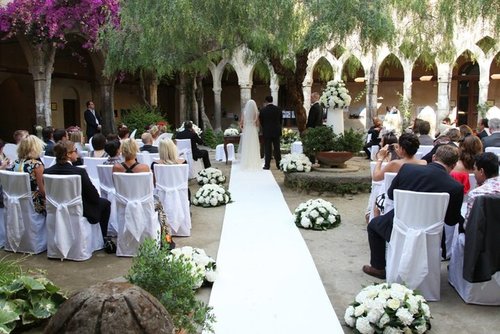 Sorrento's Town Hall – The Cloister –  location and description
The town hall of Sorrento, gives to bridal couple the unique chance to get married outdoor, in an impressive 7th century Cloister dedicated to St. Francis of Assisi, located next to the panoramic public gardens of the Villa Comunale.
The Cloister is located in the real heart of the Town and is a perfect fusion of different architectural styles, on two sides of the porch there are crossed tuff arches, stylistic expression of the late 14th century; instead, on the other two sides impressive round arches on octagonal pillars are erected. Rich with scented flowers, exotic plants and ornamental trees, the Cloister is a place to dream for.
Sorrento's Town Hall – Wedding Ceremony
Wedding Ceremonies in Sorrento are very romantic, stylish and full of atmosphere. The ceremony is conducted in Italian by the Mayor or the Civil registrar and translated by an interpreter we provide. It is possible to enrich the Ceremony with  personal vows, poems, readings and songs.
Sorrento's Town Hall – Floral arrangements
The Cloister can be decorated at your pleasure with flowers, vases, urns, organza, trees, candles, crystal decorations etc
Sorrento's Town Hall – Music
The Cloister has an excellent acoustics and there is the possibility to have music. Mandolin and guitar music matches perfectly Sorrento's romantic atmosphere but in order to have an elegant and unique Wedding Ceremony we suggest to have the touching  music of an Harp, a Violin or a string trio.
When
All the year
Contact our staff to start planning your Civil Wedding in Sorrento!