Civil Weddings in Positano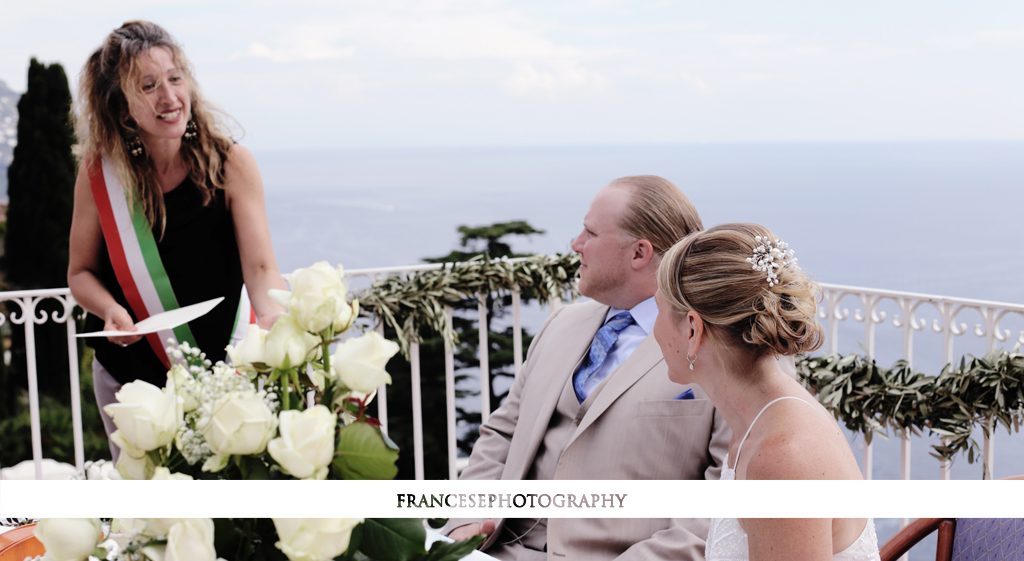 Positano's Town Hall – location and description
The town hall of Positano stands on the highest part of the town, on a very panoramic location that dominates the entire village.
The Positano wedding hall is one of our most popular locations for civil weddings. Outside weddings are very rare in Italy and here the Mayor celebrates on a terrace overlooking the bright blue sky and an incredible blue sea. The views are all around and quite memorable.
In case of rain there is a charming interior with plenty of sunlight where the ceremony will be performed. In summer time the terrace is covered with a big umbrella but it is recommended to avoid the heat.
Positano's Town Hall – Wedding Ceremony
Wedding Ceremonies in Positano are very romantic, stylish and full of atmosphere. The ceremony is conducted in Italian by the Mayor or the Civil registrar and translated by an interpreter we provide. It is possible to enrich the Ceremony with  personal vows, poems, readings and songs.
Moonlight Wedding in Positano – Sunset Wedding in Positano
Everyday at the Positano's Town Hall it is possible to get married until 11:00 p.m.
The municipality gives the unique chance to celebrate a sunset wedding or a moonlight wedding under the stars and the moon with plenty of candles all around.
Positano's Town Hall – Floral arrangements
The terrace can be decorated at your pleasure with flowers, vases, urns, organza, trees, candles, crystal decorations etc
Positano's Town Hall – Music
There is the possibility to have music.
Mandolin and guitar music matches perfectly Positano's romantic atmosphere but in order to have an elegant and unique Wedding Ceremony we suggest to have the touching  music of an Harp, a Violin or a string trio.
When
From spring to late autumn
Contact our staff to start planning your Civil Wedding in Positano!
https://www.stylemepretty.com/2013/08/16/amalfi-coast-wedding-from-forever-photography-studio/
Positano Wedding Photographer | Positano, Italy | Rebecca and Tim