Symbolic Weddings in Positano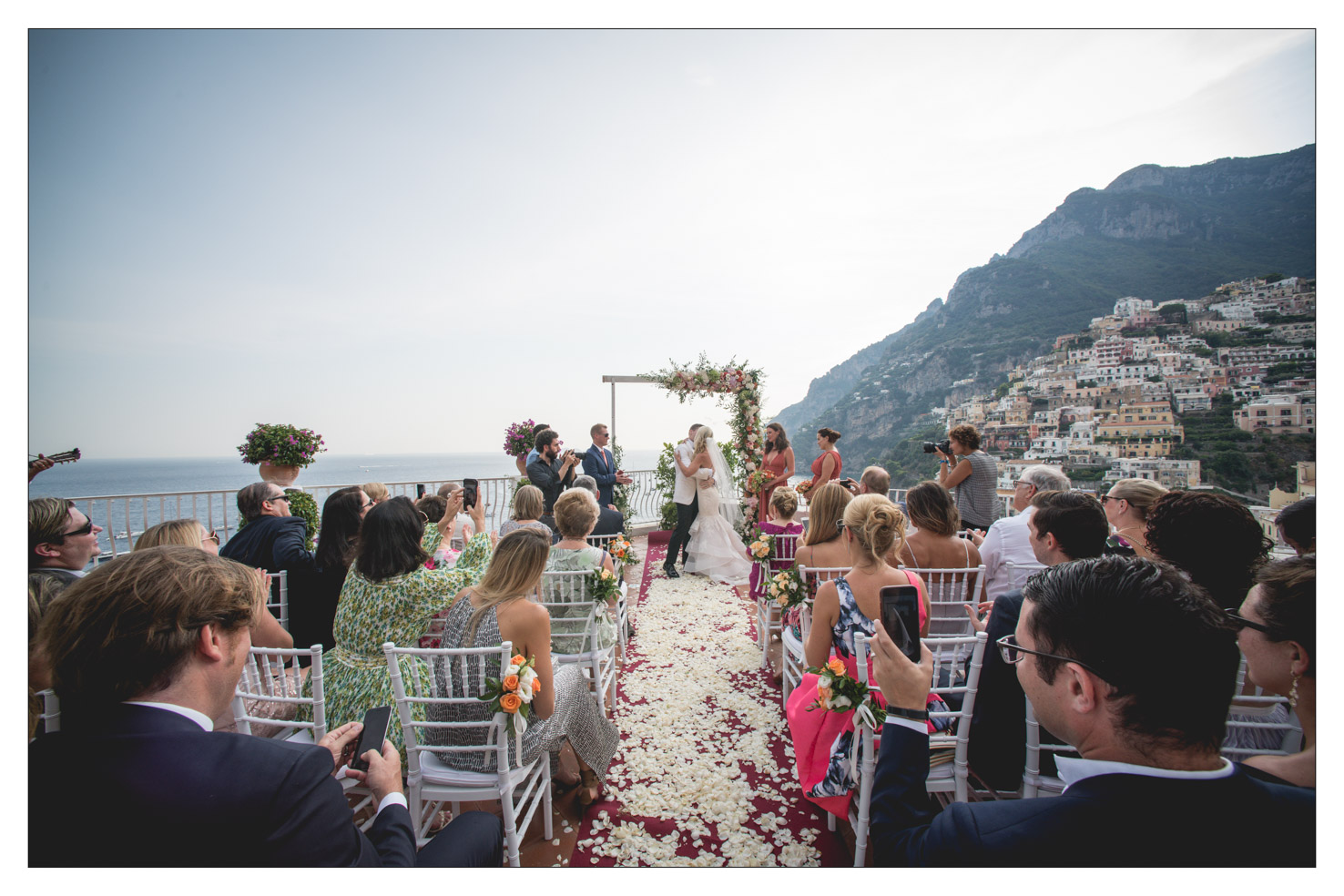 Positano is the ideal backdrop for the most romantic event of your life.
A Symbolic Wedding is a beautiful exchange of vows between the bride and groom with their guests present to share in their joy. You will not need to complete any paperwork or have a witness or translator for this ceremony since it is not legal binding and it can take place anywhere since there are no restrictions.
It could provide a wonderful surprise for the one you love.
It is usually chosen by couples who have already had a civil ceremony or do not want to get officially married.
The  ceremony is very personal and unique, many couples choose to write the ceremony themselves or with our assistance, further personalizing this special day. We will take pride in highlighting the milestones of your lives, at the time same acknowledging and honouring important transitions and events.
We will collaborate in guiding you in the choice of the rituals, readings and music to fulfil your ideas. Together we will discuss your idea of the ceremony, through email and phone consultations, until you reach the ceremony that meets your needs.
All the traditions may be followed, and the setting is up to your imagination. A Symbolic Wedding leaves you free to express any type of sentiment or religion without the hassle of required documentation.
We can provide you with an English speaking officiant or you may bring your own.
Symbolic Wedding Certificate
You will receive a symbolic certificate in Amalfi hand made paper.
Where
A symbolic ceremony can be held anywhere you wish since there are no restrictions. Positano is the perfect setting for a Symbolic wedding and it offers spectacular settings where to plan and design unforgettable and unique wedding ceremonies.
These type of ceremonies can be performed:
In one of the many stunning sea view terraces
On a turkish caique
On a yacht
On a sailing boat
In a private villa
In a luxury Hotel
On a private beach
Wedding floral arrangements – symbolic ceremony in Positano
The setting can be decorated at your pleasure with flowers, vases, urns, organza, trees and candles but it is not possible to decorate pews.
 Wedding Music – symbolic ceremony in Positano
There is the possibility to have music.
It is possible to choose among many options:
Violin
Harp
Harp and Violin
Harp, violin and singer (soprano or tenor)
Harp and string trio
Harp, String trio and singer (soprano or tenor)
String quartet
Mandolin and Guitar
When
From spring to late autumn
Contact our staff to start planning your Symbolic Wedding in Positano!