Weddings in Villa Eva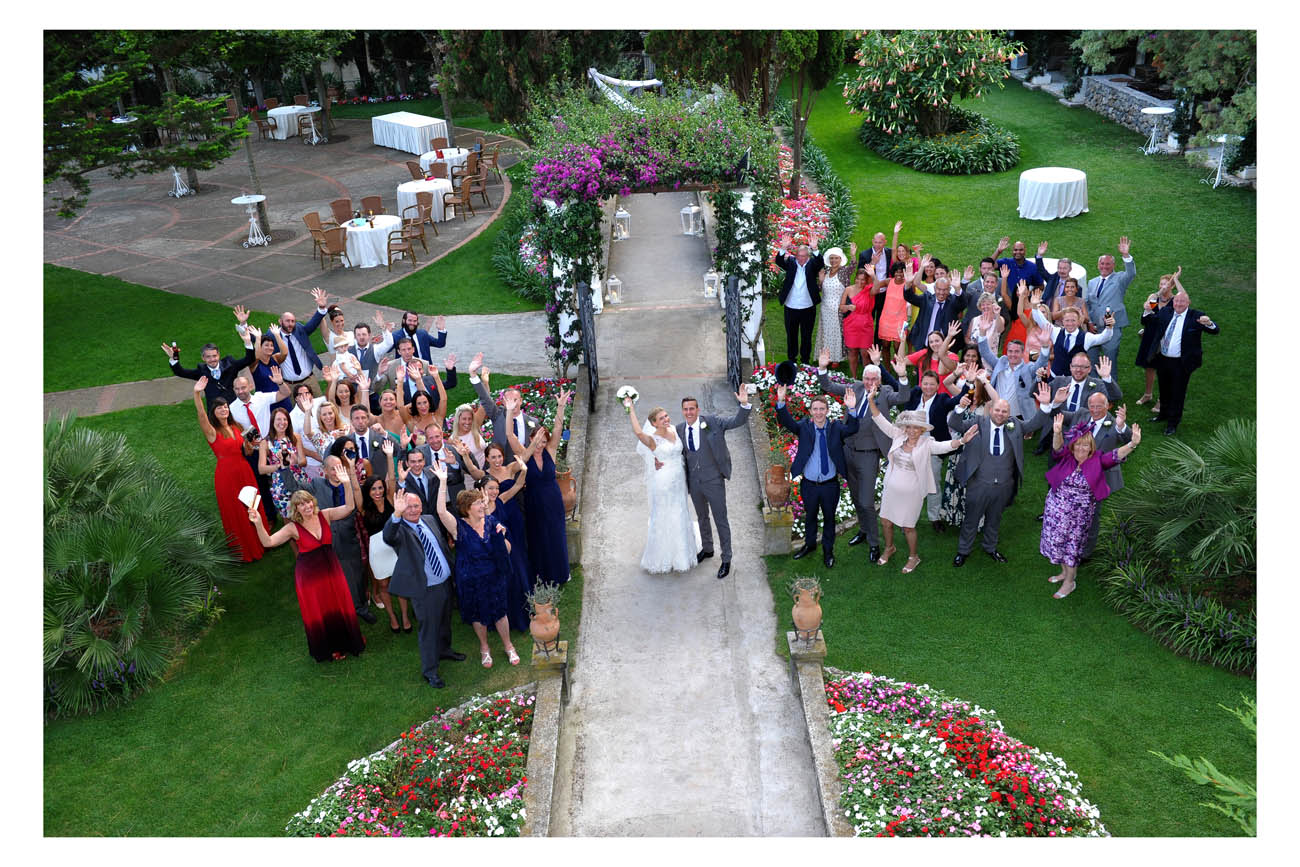 Villa Eva is a beautiful late liberty style building immersed in lush green, flower-filled gardens and a hidden gem high up in historic Ravello, with stunning views of the coast below.
It has been redecorated with care and respect of the original style, it has been always an ideal location for ceremonies, banquets and exclusive meetings.
From the villa's roof, which is the highest point in Ravello, there are spectacular 360° views of the Amalfi Coast.
The villa, owned by the Palumbo family, has been redecorated with care and respect of the original style and is nowadays utilized exclusively for special events and offers an enchanting, welcoming and private setting for weddings, birthdays, parties and myriad other events.
Being exclusively utilized for events there no fear of coexistence with collateral events.
The refined and elegant dining halls with spacious glass windows brighten the spaces provide them with an unique unmistakable style.
The venue can be exclusively hired for your wedding day, allowing a relaxed and personal celebration utilising the refined dining halls and the natural gardens.
The outside areas are suitable for all sorts of celebrations; an outside ceremony under parasols, a barbecue area and it even has woodfired stoves, perfect for an informal pizza party.
Internally the villa offers refined, elegant and spacious dining halls with glass windows and doors creating bright and unmistakably stylish ambiences.
Wedding ceremonies can be held in the villa's gardens overlooking the breathtaking coastal views.
The views from the villa' s terraces and rooftop are truly breathtaking and unique.
The vast and varied outdoor spaces include flower-filled and tree-shaded gardens and paved terraces and feature barbeque area, a pizza area complete with an authentic wooden stove and a fairly unique open cellar, which are ideal setting for barbeques, pizza parties, aperitifs and wine tasting.
The different indoor and outdoor environments allow brides and grooms to truly personalize their wedding event, dedicating different spaces to the diverse events of their day.
On their arrival at the villa the bride and groom are greeted with a celebratory flute of champagne.
Villa Eva's gardens offers countless wonderful backdrops to group photographs, including spectacular aerial shots.
The gardens are also an enchanting setting for the bride and groom to spend a few moments alone together.
Guests can enjoy the beautiful costal views during aperitifs under the shade of secular trees that lit up with fairy lights as the daylight fades into evening.
The beautiful gazebo/marquee area attached to the villa, with its pretty paved floor, elegant chandeliers and lovely tulle curtains, offers a charming and romantic outdoor setting for a wedding banquet in all weather conditions.
At evening time, the villa's atmospheric lighting creates an air of magic and romance.
Villa Eva's outdoor spaces are the perfect place for post-dinner dancing and the ground floor dining hall, thanks to its soundproofed walls, means that wedding parties can literally dance until dawn if they wish.
Contact us for your wedding in Villa Eva!